Search found 159 matches
by Graham T

Mon Mar 23, 2009 11:58 pm
Topic: Stain under varnish
Replies: 9
Views: 3660
I keep trying Oxalic as I hear from many places that it is the stuff to use but have never had much in the way of results with it. However if you need some there was a chap on e-bay that was selling it for a very good price - I was amazed to have it delivered the next morning when I had only ordered...
by Graham T

Sun Mar 22, 2009 8:43 pm
Replies: 39
Views: 12403
I tend to fill, sand , prime then fill all the bits I missed first time and prime again.... If I haven't missed any then it only needs one coat but how often does that happen? The nice flat primer does tend to show up any imperfections. You only really need to re-prime the filled spots but I usually...
by Graham T

Sat Mar 14, 2009 2:15 pm
Replies: 39
Views: 12403
I kind of agree with Ed - that was the point of putting the picture of the Osprey varnished on the drive with a cheapy paintbrush and single pack varnish. You can get reasonable results without any sort of black art. I normally use the roller and tip method but on that boat there is so much fiddly s...
by Graham T

Thu Mar 12, 2009 10:37 pm
Replies: 39
Views: 12403
Done with a cheap and nasty B&Q brush by the side of the road.......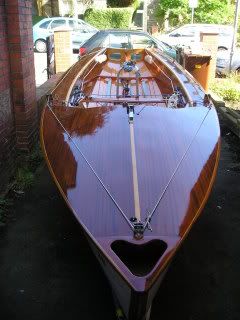 by Graham T

Tue Mar 10, 2009 6:59 pm
Forum: Boats and bits for sale
Topic: Jenny Brushes on eBay
Replies: 5
Views: 1286
He also has foam rollers that don't dissolve in 2 pack - 4" x 24 for a tenner including postage. Very good product and much cheaper than chandleries. He responds very promptly to questions and is very easy to deal with....
by Graham T

Mon Mar 09, 2009 11:19 pm
Topic: MOGO
Replies: 58
Views: 14532
A standard Mirror board is just made from a piece of ply so no problem in running a saw down it.
by Graham T

Sun Feb 15, 2009 12:33 pm
Topic: Drying out
Replies: 21
Views: 7419
I have a workshop on short term loan - I also have a wooden Osprey which has suffered from being outside over the winter and has water under the varnish. I would like to dry it out fairly rapidly and am thinking of a plastic sheeting tent with a dehumidifer in it. Would this help speed things up or ...
by Graham T

Fri Jan 23, 2009 1:57 pm
Forum: Events
Replies: 100
Views: 25668
As a long time lurker who would rarely have anything erudite to add to this forum can I just say that the wandering off topic replies are its greatest joy and bring much in the way of information and entertainment. So in terms of taking this even further away from the original topic my father used t...